Hope S. Marshall Celebrated by Alabama State Bar
March 7, 2023
FOR IMMEDIATE RELEASE
Birmingham, AL – White Arnold & Dowd P.C. is pleased to announce that shareholder Hope S. Marshall was recently celebrated by the Alabama State Bar as a part of its "Women in the Law" series. The original post can be found here.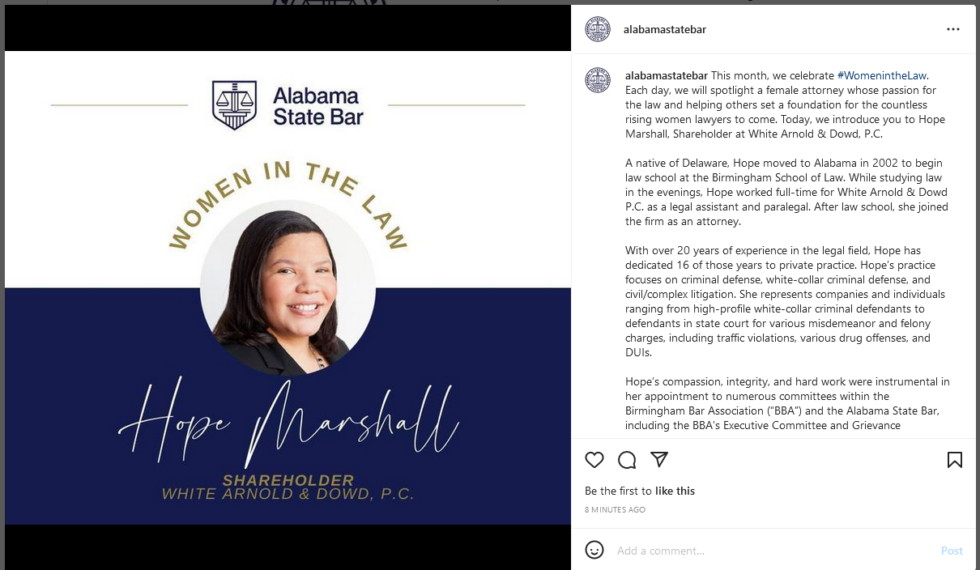 Ms. Marshall's practice focuses on criminal defense, white collar criminal defense, and general civil litigation. She represents companies and individuals in connection with criminal investigations, as well as parallel civil and criminal proceedings. Ms. Marshall practices in municipal, state and federal courts, including appellate courts. She is active in the local, state, and national bar associations and serves on the Alabama Securities Commission.
About White Arnold & Dowd P.C.: From high-profile litigation to mediation and private disputes, the attorneys at AV-rated White Arnold & Dowd P.C. excel at finding creative strategies to minimize disruptions and help our clients keep moving forward in business and in life. We have a plan for the unplanned. For more information, visit www.whitearnolddowd.com.
Contact:
Kitty Rogers Brown
205-323-1888
[email protected]